Salvy said it with flowers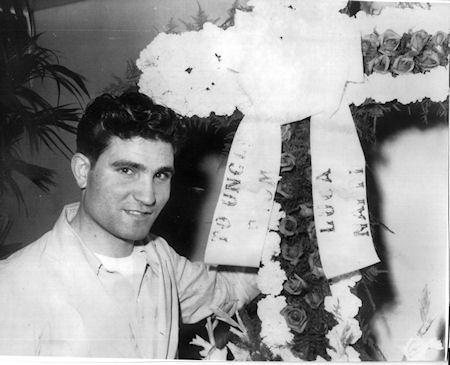 Salvy Migliaccio Sr. was the quintessential example of the American Dream. He was born and raised in Forenza, a tiny village in the south of Italy. It was there he met his wife, Connie, who traveled there from Lynn to meet him in 1950.  They wed in Forenza and came to America later that year.
He arrived in this country with $5 in his pocket, a strong work ethic and a heart full of determination. He went to work right away, at his uncle's flower shop during the day and making pizzas at night, while he learned English. Salvy and Connie began a family right away and went on to have three children, Salvy Jr., Maria and David.
He established his own flower shop, Salvy the Florist, in 1962 at 793 Western Ave., where he became a mainstay. With his drive, vision and the help of his family he developed his flower shop into a business that grew to five locations in Lynn, East Boston and Swampscott.
Hard work and providing for his family were the hallmarks of Salvy's life.  Nothing said that more than the traditional Sunday dinners, where the whole family gathered around the table. As the business and family grew, so did the number of seats around the table.
"That's what you did on Sundays," said Salvy Jr.
Holiday celebrations were always tailored around the work that had to be done. For Salvy Jr. and his siblings, Maria and David, growing up with the business and helping out where they could from an early age, it was almost inevitable that they would one day take over.
"We all tried different things but we always gravitated back to the business," said Maria Migliaccio Eddows.
Salvy Sr.'s devotion to serving his customers was legendary.
"In the Blizzard of '78, he hitched a ride on an electrical truck to get from Nahant to the shop," Maria said. "He ended up sleeping there for three days."
Salvy took pleasure in watching his business and family grow over the years. 
"He never asked anyone for anything,"" said Salvy Jr. "He was proud he built something that allowed him to provide for his family and allowed his children to provide for their families."
Salvy Sr. died in 2005, one year before his beloved and devoted wife. His hard work, vision and devotion to his family have passed the test of time.