By all accounts, a successful businessman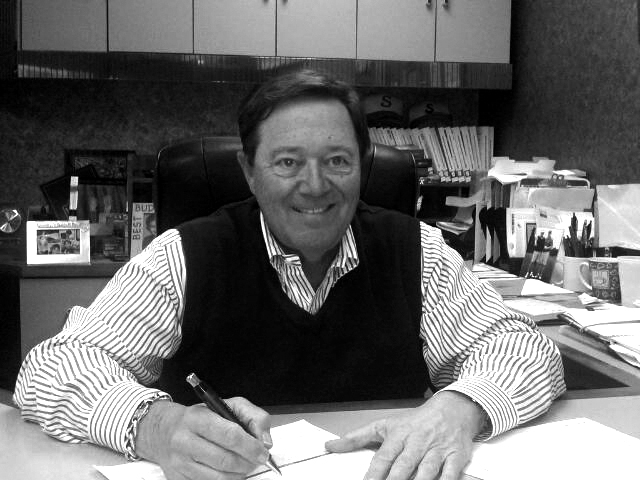 For Certified Public Accountant Roger L. Volk, a more fitting definition of CPA would be charismatic, personable accountant.
An integral member of the Lynn business community for more than 45 years, Mr. Volk is founder and president of Volk, Kittredge & Company, (formerly Roger L. Volk & Company), a financial consulting firm at Seaport Landing on the Lynnway. In an otherwise cut-and-dried field of numbers, he goes about his daily work with an unusual zest for life.
"I'm not shy. I like to have fun, and if you love your work, then you can enjoy your whole day," said Mr. Volk. "That's what life is all about."
In addition to his work in the accounting field, Mr. Volk hosted a weekly radio program, "Financial Survival with Roger Volk," on WRKO and WEEI for more than 20 years and is a seasoned public-address announcer at all Swampscott High School varsity football games. He spent 15 years as an assistant dean and professor at Suffolk University and has also served as a member of the faculty at both Boston University and Harvard University. He has been the keynote speaker at numerous seminars conducted by the Internal Revenue Service throughout Massachusetts for more than 30 years.
Born and raised in Swampscott, Mr. Volk was president of his class at Swampscott High School. His father, Benjamin, owned a corrugated box factory in Lynn and his mother, Charlotte, worked as a teacher in Lynn.
"Growing up, I wanted to be a professional golfer, but my father told me, 'Nice try Rog, but you're going to college,'" said Mr. Volk, who went on to earn his bachelor's degree in accounting from BU, his master's in business administration and education from Suffolk and his doctorate in education from the University of Sarasota.
He launched his career as an accountant at KPMG in Boston and opened his own firm on Mt. Vernon Street in Lynn in 1965. He later moved the business to Seaport Landing. Earlier this year, he received the 2010 Five Star Wealth Manager Award from Boston Magazine. He was also listed as Five Star Top Scoring Tax Specialist. Fewer than seven percent of the wealth managers in the Boston area were selected.
Mr. Volk resides in Swampscott with his wife, Elaine, whom he married after the death of his first wife, June, in 1988. He is the proud father of two, Melissa and Jeffrey, as well as three stepchildren, Andrea, David and Jason, and is the proud grandfather of eight.