Old-school values of friendship, family, faith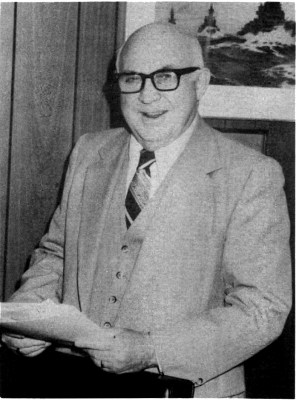 Family, friendship, and faith were the guiding forces that influenced James Leo McGuinness in both his personal and professional life.
Mr. McGuinness, who died at the age of 76 in 1990, served as Lynn's superintendent of schools for 13 years, from 1970-83, including the turbulent years after the passage of proposition 2½ in 1980 and the resulting teacher layoffs.
"They weighed very heavily on him," said his daughter, Kathy Wilkins. "He hated seeing young people losing their jobs." Judy Olson said her father also took it to heart when a bitter dispute turned into a teachers' strike and teachers ended up in jail.
Family was foremost. James Leo and Mary McGuinness, who died in 1994, were married for 53 years and had seven children and 27 grandchildren, several of whom serve as teachers and guidance counselors in the area. Besides Olson and her husband, Jeff, and Wilkins and her husband, Wayne, the other children include: James Leo McGuinness Jr. and his wife, Judy; Richard McGuinness and his wife, Maureen; Mary Ellen Connelly and the late Tom Connelly; Patricia Henkenmeier and her husband, Hank; and Michael McGuinness and his wife, Mary.
Service to the community was another hallmark of Mr. McGuinness' life. He belonged to the Valladolid Council of the Knights of Columbus, the Ancient Order of Hibernians, and honored his Irish heritage as a founding member of the Friendly Knights of St. Patrick. After serving in the Navy during WWII, he became active in veterans' affairs. He also loved sports, working as a football official for 20 years.
During his tenure as superintendent, Mr. McGuinness excelled at learning to work with different mayors, and later served on the School Committee. "I think he loved the politics of the job," Olson said. "That was the Irish in him."
Every year since 1991 a student at each Lynn public high school has received the James Leo McGuinness Scholarship. To date $52,000 has been awarded.
"He was a people person, first and foremost," said Olson. "People still come up to me and say how much they miss him."