1 city. 160 years. 56 mayors. 
It took 160 years and 55 mayors before Judith Flanagan Kennedy became the 56th — and first.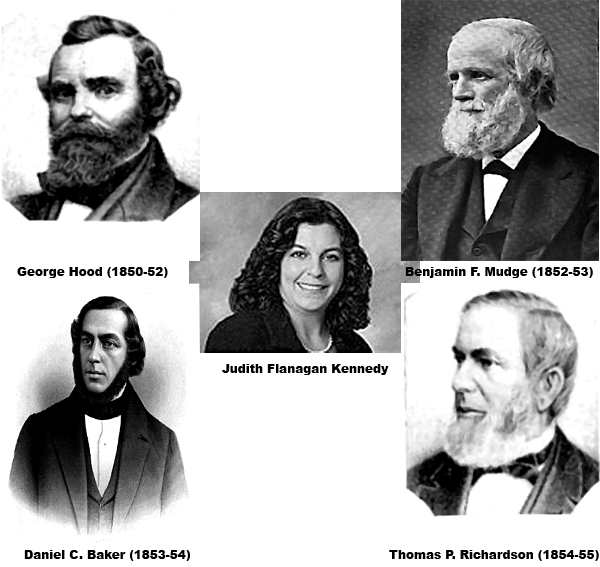 On Jan. 4, 2010, Ms. Flanagan Kennedy was sworn in as the city's first female mayor – 160 years after Lynn's first mayor, George Hood, took office.
Settled in 1629, Lynn was incorporated in 1850. Hood, who was also a member of both houses of the Massachusetts Legislature, served as the city's first mayor from 1850-52. Benjamin Franklin Mudge (1852-53) was a geologist and teacher who later became state geologist of Kansas. Daniel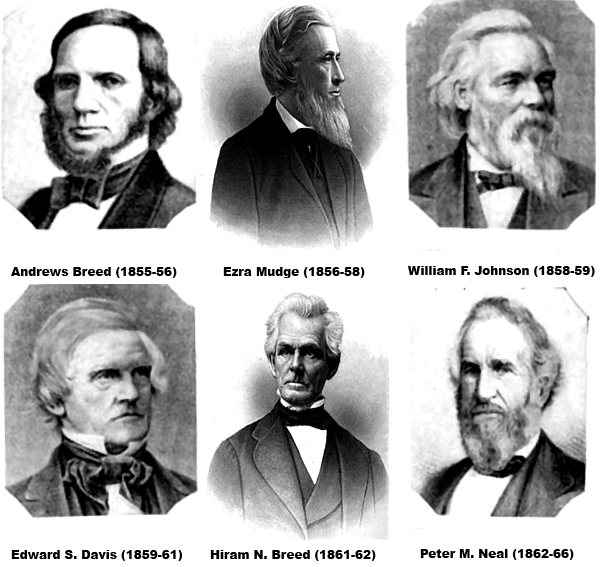 C. Baker (1853-54) was the first president of the Lynn Common Council and also a member of the Massachusetts Legislature. Thomas P. Richardson served from 1854-55. Andrews Breed (1855-56), the fifth mayor of Lynn, and Hiram N. Breed (1861-62), the ninth mayor, were both descended from Allen Breed, one of Lynn's first settlers in 1630.
Democrat Ezra Mudge, who also served as a selectman and alderman, was the sixth mayor, serving from 1856-58, followed by William F. Johnson (1858-59), who could trace his family's presence in the city back to 1637, and Edward S. Davis (1859-61) also a member of one of Lynn's founding families dating back to 1635.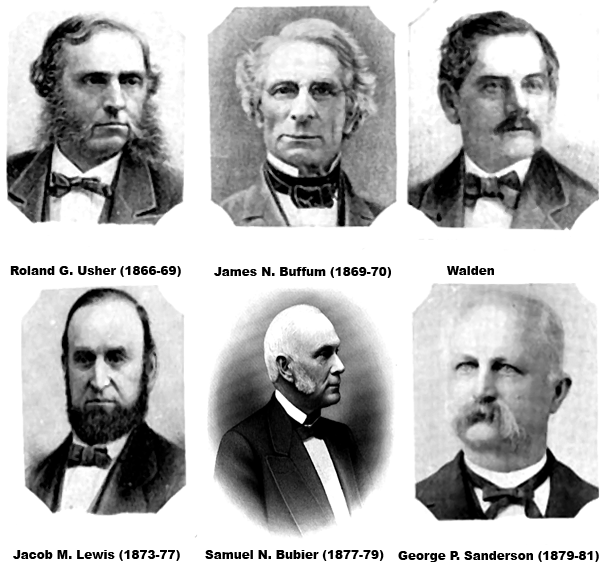 After Hiram N. Breed came Peter M. Neal (1862-66), who served in both branches of the Massachusetts Legislature and was the grandfather of Charles Neal Barney, the 31st mayor. Roland G. Usher (1866-69) was paymaster-in-chief of the Department of the Gulf during the Civil War. James N. Buffum (1869-70) was a noted abolitionist who once came to the defense of Frederick Douglass in a car of the Eastern Railroad.
Jacob M. Lewis (1873-77), the 15th mayor, could trace his family's history in Lynn back to 1639. Samuel N. Bubier (1877-79) was a shoe manufacturer who also served on the Board of Aldermen. George Plaisted Sanderson (1879-81) was a member of the Greenback Party when he was elected. Henry B. Loverling (1881-83) later ran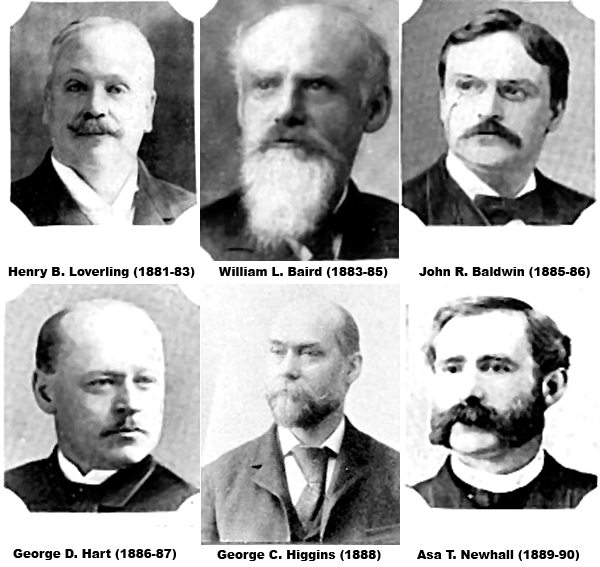 unsuccessfully for governor, while William L. Baird (1883-85) served in the Union Army during the Civil War.
The 20th mayor, John R. Baldwin (1885-86), also served as a member of the Lynn School Committee and the Massachusetts State Senate. George D. Hart (1886-87) was also a state senator and a member of the Common Council, while George C. Higgins (1888) served as a state representative and city councilor. Asa T. Newhall (1889-90) served in both houses of the Massachusetts Legislature as well as the City Council and School Committee. E. Knowlton Fogg (1891-91) was a shoe retailer who later became Postmaster in Lynn.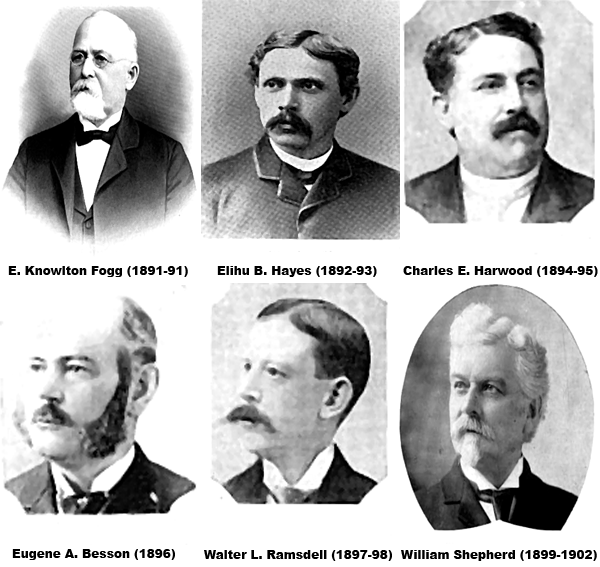 Elihu B. Hayes (1892-93), the 25th mayor, was in the shoe industry and worked as a newspaperman before filing a bill in the state Legislature to adopt the Australian-style secret ballot system, initiating the successful movement for the adoption of the secret ballot in the United States. Charles E. Harwood (1894-95) later ran for Congress in the 7th District, losing to Ernest W. Roberts.
Eugene A. Besson (1896) was a pharmacist who also served in both branches of the state Legislature.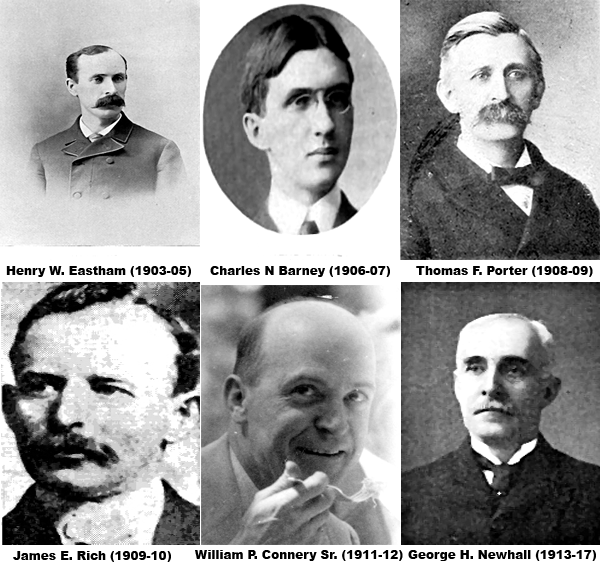 Walter L. Ramsdell (1897-98) was a printer who ran unsuccessfully as the Democratic nominee for Congress in 1898. William Shepherd (1899-1902) was a native of Ireland who became a shoe manufacturer and later served on the Lynn Common Council and as a state representative. Henry W. Eastham (1903-05), the 30th mayor, served as a member and president of the Lynn Common Council. Charles Neal Barney (1906-07) was a lawyer and professor who served as a presidential elector in 1908.
Thomas F. Porter (1908-09) was a member of both branches of the state Legislature. Before James E. Rich (1909-10) was elected, he was a motorman and the foreman of a car barn of the Boston & Northern Street Railway. William P. Connery Sr. (1911-12) was the first mayor chosen under the commission form of government; the other was George H. Newhall (1913-17), the 35th mayor.
Walter Creamer (1918-21) was elected in 1917 as the city returned to a mayor and city council style of government. Harland A. McPhetres (1922-25) also served as director
of the Massachusetts State Housing Board. Ralph S. Bauer (1926-30) was a founder of the Lynn Board of Trade, which became the Lynn Chamber of Commerce. Manning Bowl, which was erected as a WPA project from 1936-38, was named for Mayor J. Fred Manning (1930-39), as is Manning Field, which replaced it in 2005. Albert Cole (1940-43 and 1946-47) was the 40th and 42nd mayor, taking a leave of absence to serve during World War II. Arthur J. Frawley (1943-45 and 1952-55), began as acting mayor upon Cole's leave, before being elected in his own right. Stuart Tarr (1948-51) served in between the respective second terms of Cole and Frawley.
The 45th mayor, Thomas P. Costin Jr., served from 1956-61 when President John F. Kennedy named him Postmaster of Lynn. He was, at age 29, the city's youngest mayor. M. Henry Wall (1961-65) served the rest of Costin's third term and was re-elected once. A senior housing complex run by the Lynn Housing Authority & Neighborhood Development is named for him. While Irving E. Kane (1966-69) was mayor, employment peaked at GE at 25,000. J. Warren Cassidy (1970-72) was the first mayor to bring a computer into City Hall and spent much of his term on collective bargaining issues. He later became executive director of the National Rifle Association.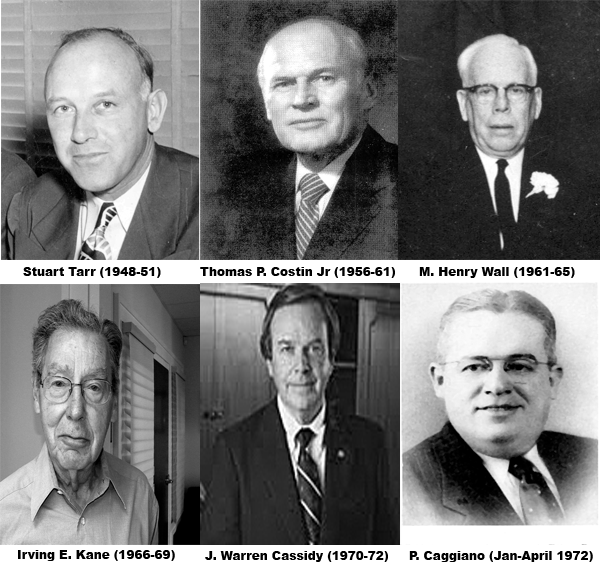 Pasquale "Patsy" Caggiano, who ran for mayor seven times before being elected, served just four months (January-April 1972) and died in office. Antonio J. Marino (1972-73 and 1976-85), the 50th and 52nd – and the city's longest-serving — mayor, won a special election to complete Caggiano's term. Under David L. Phillips (1974-75), the department of Community Development was created. After returning to office, Marino sought help to rebuild the downtown after the Second Great Lynn Fire of 1981 destroyed 18 buildings.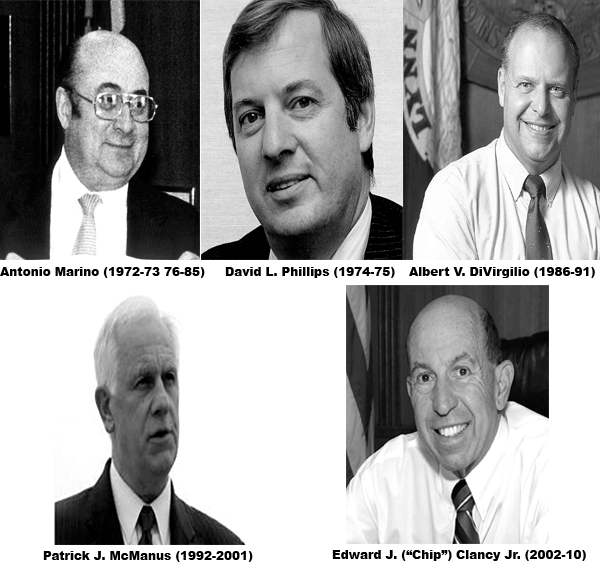 Albert V. DiVirgilio (1986-91) worked to get city schools and services back on track after the cuts of Proposition 2½. Under Patrick J. McManus (1992-2001), who joins Marino as the longest consecutively-serving mayor, the city built a new Classical High and expanded English High. A trustee of the U.S. Conference of Mayors, McManus became a nationally acclaimed expert in water and sewer system improvements.
The new Manning Field was built under Edward J. ("Chip") Clancy Jr. (2002-10) – the 55th mayor and first elected to a 4-year term – who successfully led the city through difficult economic times. Like Hood, the city's first mayor, Clancy served in both houses of the state Legislature.
And from whence came the City of Lynn's 56th — and first female — mayor, Judith Flanagan Kennedy, who had previously served on the School Committee and City Council. Kennedy ran a successful sticker campaign in the 2009 primary after McManus, who was bidding to return to the office he had left eight years earlier, died suddenly. She defeated Clancy by 30 votes in the general election.